Partner With InvisiblePPC
Grow Your Agency With PPC Managed Services
that Actually Drives More Leads & Sales for your Clients!
By becoming a partner you'll leverage 5 powerful assets that will set you up for success:
High-performance campaigns, offers, cost per lead, and lead volume sure to impress clients
We aim to surpass the goals we set above for each campaign within 90 days
Beautifully-designed, PROVEN landing pages that convert in 75+ niches
Training, case studies and onboarding materials to simplify your sales & onboarding
A team of niche experts spanning multiple time zones to support you
We've managed 1,600 accounts over the last 10 years, with $28.6 million in ad spend in the last year alone. We've become experts through this experience and have been collaborating with agencies to help grow their businesses ever since.
Google channel partner – 1% of top agencies
Only white label Google channel partner
Proven successful campaigns: 10+ years experience with our many Smart Niches
You don't have to be expert – we assign you to expert account manager with experience in the Niche
We handle the setup and linking of accounts
Here's more on what we do…
Landing Pages that Drive Conversions
We know this because we've tested hundreds of landing page variations for over 75 niches. This extensive process has led us to build, manage and perfect them, while also generating unbelievable results.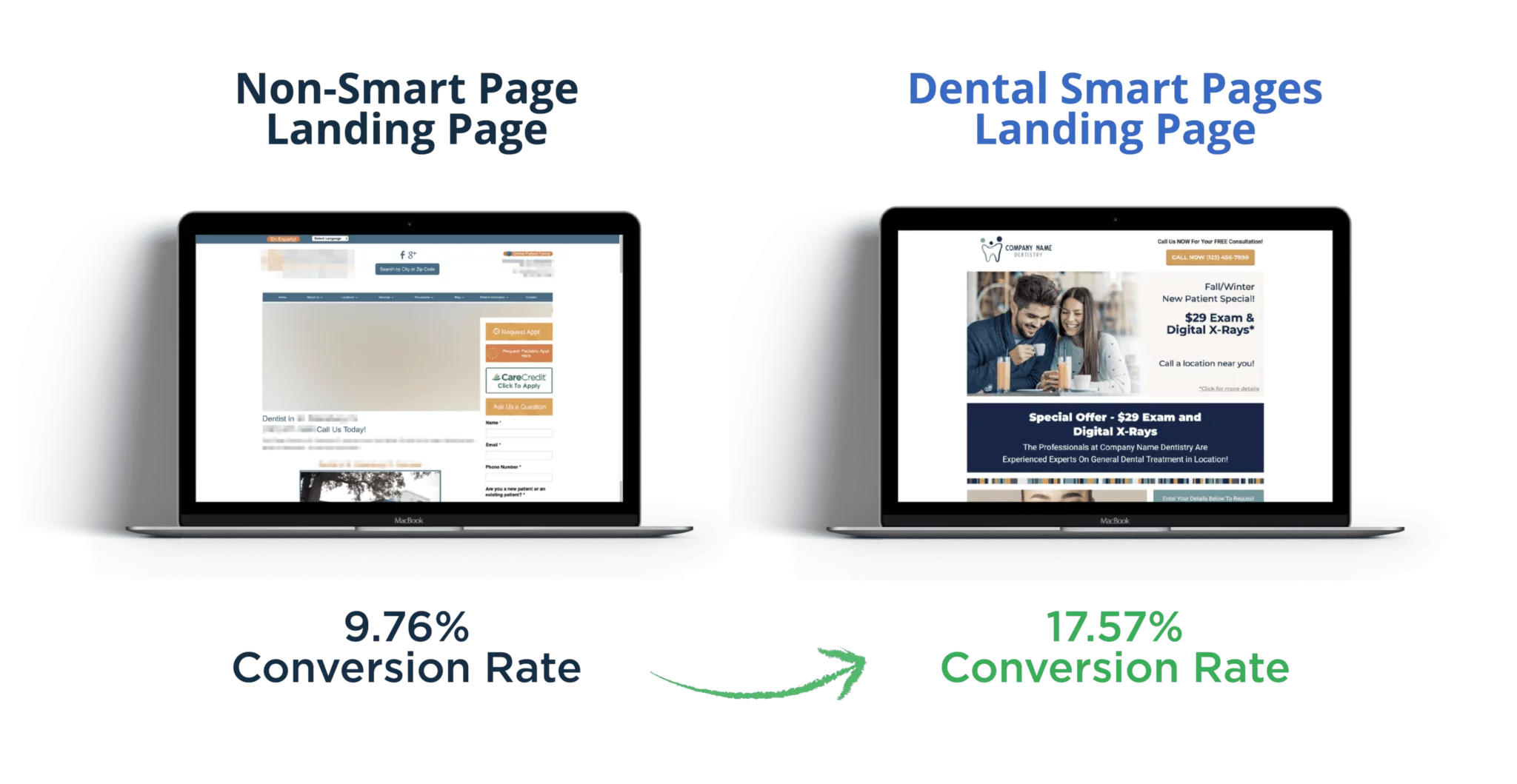 17.57% Dental Landing Page Conversion Rate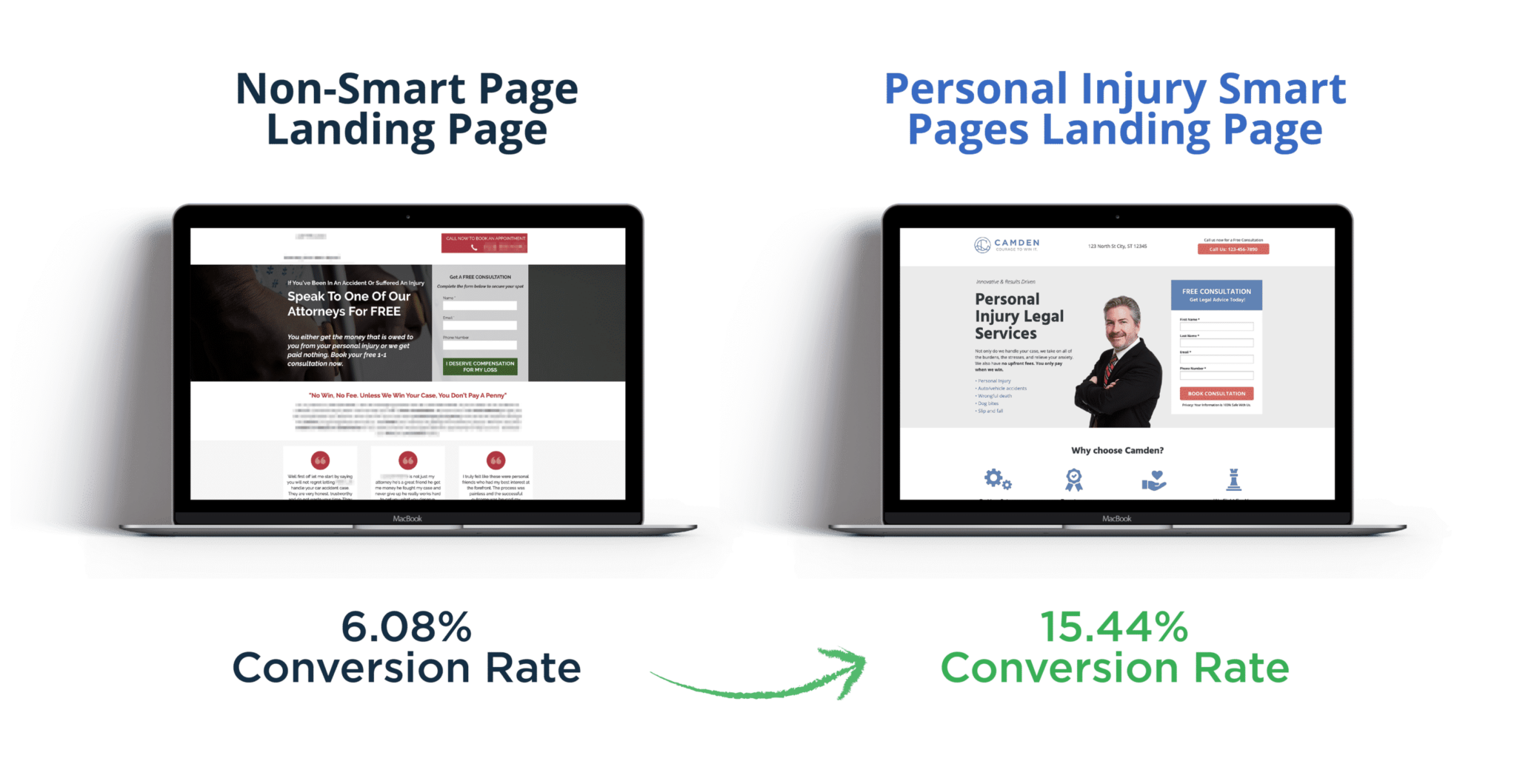 15.44% Personal Injury Landing Page Conversion Rate
Our Smart Pages are battle-tested landing pages designed to produce greater conversion rates, which helps your client get more leads.
We create Smart Pages that are aligned to your client's branding, but most importantly, they're designed to convert!
Damn. Your design team is KILLING it! This is beautiful.
We also offer ROI calculators that show how our proven landing pages limit missed opportunities for your prospects. Straightforward and easy to use, even our worst case scenario example calculations for smaller industries results in an increase in upwards of $30,000 a year – just from switching to our Smart Pages! Yep, no traffic changes or campaign changes!
It Pays to Become a White Label Agency Partner
Partners get a discount on all services PLUS access to multi-client breaks
Get access to our white label case-studies and client closing materials
Direct access to ads and landing page designs that convert in our niches.
Special trainings and exclusive releases designed for our partners
Plug into our Agency Community to talk shop with agencies like you
White Label Agency Partner Pricing
White Label Services
Partner Agency Rate
Non-Partner Agency Rate
PPC Fulfillment

Setup (one-time)
Management (monthly) up to 5K in Ad Budget

$595
$495/month

$795
$695/month

Omni-Retargeting

Setup (one-time)
Management (monthly)

$249
$199/month

$299
$349/month

PPC Audit
$295
$395
PPC Boost

(includes PPC Audit)

$595
$695
Agency Training, Tools, & Case Studies from 10+ Years Of Agency Experience
InvisiblePPC Agency Insider Gives You Everything You Need to go from Zero to $10,000 Per Month in Agency Revenue
The InvisiblePPC Partner Program Was Designed For New PPC Agencies Looking to Close More Deals
PPC Sales & Onboarding Tools + Swipe Files
The tools you need to pitch, sell, and close more clients without having to do the heavy lifting.
Including:
Agency Pricing Guides
Ad Proposal Templates
Landing Page Structure Checklist
PPC Audit Checklists
Discovery Call Guides
And More!
Take the guess work out of your process with these helpful Agency & PPC resources that will help you do what matters: close more clients!
170+ White Label PPC Case Studies
As a Partner, our experience becomes your experience! Use these PPC case studies to prove you can do the work and win more business.
Case studies span 50+ niches like:
Auto repair
Roofing
HVAC
Dental
Law
…and more…
And More!
Done-For-You Prospect Pitches
Let us take care of your pitches for you. We'll do all of the data diving and competitive research then package it all up in an easy to deliver pitch that actually closes clients.
IPPC Partners get one complimentary D4Y Prospect Pitch per month.
Monthly Live Trainings & Recordings
Each month, we provide a new tactical training covering topics ranging from starting and scaling an agency to the latest in PPC strategies such as:
Agency Pricing Masterclass
Introducing Performance Max
Packaging and Pitching PPC Management
How to Run an Ad Audit
Agency Sales Psychology
Partners get access to the recordings of these trainings and all future recordings
Get your most pressing questions answered from experts with a combined 30 years of marketing & agency experience.
Office hours are on the second Wednesday of each month and are designed to help you…
Answer agency growth questions
Clear up your offering
Ask how to handle a tricky client
Get feedback on pricing
These sessions are designed to get your agency the clarity it needs to grow.
Access to a Community of Your Peers & the IPPC Team
Get direct access to agency peers who have "been there and done that" already. 
So what exactly do you get with every new client you onboard?
Included With Every Campaign
D4Y Landing Pages
Call Tracking
Live Reporting Dashboard
Built In Your MCC Not Ours – We Don't Hold You Hostage, We're Working In Your Account On Your Behalf
White Label Onboarding Resources
Case Studies For Hundreds Of Niches/Verticals & Proven Successful Campaigns
Before & Afters
Proven Landing Pages & Campaigns
White Label Onboarding Document
Dedicated Account Manager That Is An Expert In Your Clients Niche
Ready to give your new clients the ultimate unfair advantage?
Are you the type of person that wants to be a part of the future of white label PPC? Do you really care about your clients results?
We'd love the opportunity to show you how we can help you grow your agency with our Partnership program.
What our white label PPC Partners say...

"It's particularly crucial for us that we can trust our client's campaigns into their hands without having to check in to the accounts to ensure everything is okay – we know they've got it covered, and their reporting is comprehensive and punctual. We'd highly recommend InvisiblePPC."

"I've been working with the InvisiblePPC team for 4 years now and I am very happy. We met the team at a seminar, liked what we heard and started a conversation with them. We were happy to see that their processes and quality of work matched our own (and they were able to grow with us). Now, they manage ALL of our Google Ads clients and we're happy that they do."

"InvisiblePPC has been an invaluable resource for my agency for years. They provide us with the best consultation, implementation and reporting that I've ever experienced with an outsourced provider. InvisiblePPC gets results so we look like heroes to our clients."
InvisiblePPC Partner Program
Proven PPC Sales Materials & Swipe Files with more added each month

170+ White Label Case Studies across 52 niches
(Our experience is YOUR experience)

12 Prospect Pitches
(1/per month)

Monthly PPC & Agency Trainings PLUS All Previous Recordings

Unlock the Landing Page Template Vault

Monthly Office Hours with Justin or Avi to get Your Questions Answered

Access to a Community of Agencies & the IPPC Team
Starting at: $380/quarter